Brittany Ferries Announce new £175m Ferry 'Honfleur'
Brittany Ferries have announced a new super-green £175m cross-Channel ferry 'Honfleur'. The Honfleur will travel from Portsmouth to Caen, starting in summer 2019.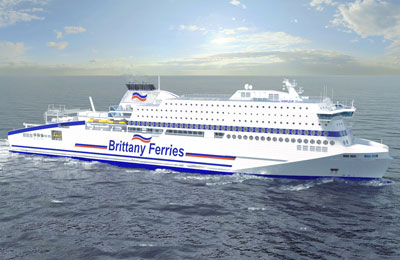 Brittany Ferries have confirmed the construction of a new cruise ferry. The new craft will be named Honfleur, in keeping with their tradition of naming ships after destinations served by the company.
The Honfleur is expected to be one of the most environmentally friendly ships operating in UK waters when she takes to the seas on the Portsmouth to Caen route. Sea trials are expected to begin in March 2019, with the ship scheduled to enter service shortly afterwards, in June.
Honfleur is being built at the Flensburger Schiffbau shipyard in Germany and will be powered by LNG (liquefied natural gas). Compared with diesel fuel, LNG emits less carbon dioxide during combustion and burns with no smoke, meaning low emissions of nitrogen oxide and particulate matter.
The Honfleur
The new ship will be capable of carrying up to 1,680 passengers and will feature 257 cabins, two cinemas, restaurants, shopping and large passenger lounges. Honfleur will operate alongside Brittany Ferries' Mont St Michel on three daily return sailings, replacing the Normandie which will move onto the Portsmouth to Le Havre route.
Despite the challenges of Brexit, Brittany Ferries remain confident in the future. The Honfleur will be their first new ship in ten years, following the Armorique in 2009, and will cost around £175 million.
In a statement about the new ship, Christophe Mathieu, CEO of Brittany Ferries said: "It is important that we invest in new technologies and new vessels that respect the environment in which we operate. Equally, we must not forget that our customers expect Brittany Ferries ships to be comfortable, relaxing and adapted to the digital age. These objectives are compatible and I believe Honfleur will set a new standard for ferries operating on the Channel."
Honfleur – inspiration from a beautiful destination
Honfleur in Normandy is a charming seaside town on the Seine estuary, famed for its tall, narrow buildings. Surrounded by lush greenery and framed by hills, it has long been the inspiration for artists, writers and musicians. The école du Honfleur (the Honfleur School), an artistic movement involving Monet and Eugene Boudin (who was born in the town), had a big influence on the Impressionist Movement. Some of their paintings of the town can be seen in the Eugene Boudin Museum. Honfleur is home to many museums including a maritime museum, a museum of culture and folk art and a town museum that all illustrate the area's rich past. The Eglise St Catherine is the largest wooden church in France.
Honfleur's route: Portsmouth to Caen
Portsmouth and Caen are now officially twinned, a sign of the strong links that have developed between the two cities since the ferry route opened thirty years ago – and something that will remain long after Brexit negotiations have concluded. More than a million passengers are carried every year, with a crossing time of around six and a half hours.
"In the last 40 years Portsmouth has become Brittany Ferries' hub, serving four destinations in Normandy and Brittany, as well as two in northern Spain," said Mike Bevens, commercial director. "But our Caen route holds a special place for staff and passengers. It's our most popular service, carrying by far the most traffic and is gateway to beautiful French tourist destinations including Honfleur itself."