About Us
Cheap4Ferries is a price comparison website for ferry travel.
Part of AFerry Ltd, Cheap4Ferries have been in operation since 2003 and today we can offer over 1800 ferry routes from more than 140 ferry operators. Each month we add new routes and companies to our extensive list and we are constantly striving to improve our website to give you access to the most up to date ferry travel deals.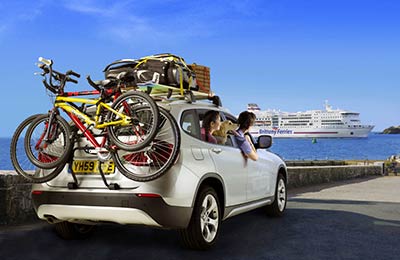 Cheap 4 Ferries provide real-time pricing and availability for all major UK ferry operators, letting you find competitive prices for the cheap ferry crossing that best suits your needs.
Booking with Cheap4Ferries
Our comprehensive search engine lets you enter the specifics of your trip before you even click "search", so that we can give you results which are as close to your ideal trip as possible.
Just enter details such as how many people are travelling, their ages, your preferred dates and times, method of travel (are you getting on the ferry as a foot passenger, or by car, van or truck etc), and after you've clicked "search" we will give you the best available prices without you having to add a lot of extra detail.
Later on in your booking you will be given the option to book accommodation (optional on shorter crossings) and even meals if you choose.
Travel by Ferry
For ever-expanding families, it can be more cost effective to travel by car and ferry than by air; plus there are no baggage fees.
No luggage restrictions - bring all the luggage you or your car can carry!
Bring your pets with you - for more information on everything you need, visit the GOV.UK website.
Huge range of routes and companies to choose from.
Save money on your ferry travel
Ferry travel is an increasingly popular method of travel, and there are some simple ways you can save money: the key is flexibility.
Be An Early Bird!
Sailing at the most convenient times can mean paying more, so use our booking engine to compare prices between day and night, and check to see if it's cheaper to travel mid-week rather than at the weekends. School holidays are usually more expensive as well as being more crowded, so try to avoid these peak times where possible.
Be Adventurous!
Dover to Calais may be one of the most popular routes in Europe, but depending on your destination, it may be cheaper for you to try an alternative port such as Dunkirk or St Malo if you're travelling from the South of England, or perhaps Newcastle to Amsterdam if you are setting off from the North. By looking at alternative ports you could end up saving yourself both petrol money and time.
Be Quick!
The best ferry prices are usually available to the people who book in advance. Timetables are often open several months or even a year prior to departure, so if you are able to plan ahead you will save money and enjoy the peace of mind from knowing you are all booked and ready to travel.
Booking Enquiries
If you have a general enquiry please check to see if your question is answered in our Frequently Asked Questions Section.
For enquiries regarding sailing dates and times, please use the booking form above.
Once you have made your booking, you will receive a booking confirmation email from us. This Confirmation Email will contain your booking reference numbers and a link to amend or cancel your booking via "My Account". Within "My Account" is a direct messaging feature - please use this link for all booking related correspondence.