Amsterdam Ferry Port
Amsterdam (IJmuiden) ferry port offers a regular ferry service to Newcastle in the North of England.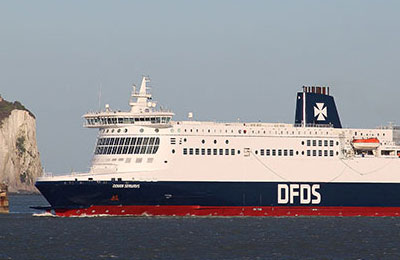 Directions To and From Amsterdam Ferry Terminal
Address: Felison terminal, Sluisplein 33, 1975 AG IJmuiden, The Netherlands.
You can reach Amsterdam (IJmuiden) ferry port on the following routes:
About Amsterdam
Amsterdam ferry port is located in the small town of IJmuiden on the outskirts of Amsterdam City. The port connects Holland with Newcastle in north-east England, with DFDS Seaways operating up to 7 crossings per week.
Getting to Amsterdam (IJmuiden) Ferry Port
By Car
Take the A9 (travelling from Amsterdam, The Hague, Haarlem or Alkmaar) and turn off at the junction IJmuiden, Beverwijk (to A22). Follow the sign to IJmuiden and turn left at the traffic lights. Continue following the signs to IJmuiden.
By Train
Although possible, travelling by train to and from the port is not ideal. The nearest Train station is Haarlem Central, you can reach this station by bus from IJmuiden. Take bus no.74 to 'Plein 1945' and then change onto bus no.75 heading to 'Haarlem Centraal'.
By Bus
In co-operation with a local coach firm, DFDS Seaways provides a connecting coach service between the ferry port in Amsterdam (Felison Terminal in IJmuiden) and the Central Railway Station in Amsterdam. On days of departure coaches leave the central station between 15.00 and 16.00. On arriving at the Amsterdam ferry port, a coach transfer departs from IJmuiden and heads into the Amsterdam city centre. The coach stop in Amsterdam is opposite Central Station, in front of Hotel Victoria, Damrak 1.
Amsterdam Ferry Port Facilities
Café/ Bar
Facilities at the terminal are limited. However there is a large marina within walking distance that has several restaurants and cafés. A little further on is the beach with more dining options.
Disabled Facilities
Port staff will be happy to help with any assistance you may require. We do suggest however that you advise of any special requirements at time of booking.
Cheap4Ferries provides this information for guidance only.