Dublin Ferry Port
Dublin ferry port is located close to the city centre and sees more than 1.7 million passengers arrive or depart each year.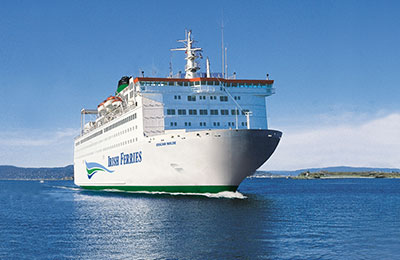 Directions To and From Dublin Ferry Port
Address - Irish Ferries & Steam Packet Company: Terminal 1 - Terminal Road South, Dublin 1, Ireland
Address - Stena Line: Terminal 2, Alexandra Road, Dublin 1, Ireland
Address - P&O Ferries: Terminal 3, Dublin Port, Dublin 1, Ireland
You can reach Dublin ferry port on the following routes:
About Dublin
Originally founded as a Viking settlement, Dublin is the capital and largest city of Ireland. Dublin Port has three terminals with sailings between Ireland and England, Wales and the Isle of Man. Take a walk along the banks of the river Liffey, and get a taste of the art, literature of this fascinating city with a visit to Kilmainham Gaol, Trinity College, Dublin Castle, Guinness store house, the Old Jameson Distillery, the National Gallery of Ireland and the Temple Bar area, famous for its vibrant atmosphere. A city rich in culture and heritage, Dublin has always been a centre for literature and the theatre, it's famous writers ranging from James Joyce and George Bernard Shaw, to Oscar Wilde and Samuel Beckett, to Roddy Doyle and Maeve Binchy.
Getting to Dublin Ferry Port
By Car
From the North and West: via M50 Motorway.
Note: The M50 is a barrier-free toll road. This means that cameras, located between junction 6 and 7 on the M50, scan your plate number and charge the toll to the vehicle owner. However, there are also toll booths on the port side of the Dublin Port Tunnel. Please plan your journey carefully and be sure to take these possible tolls into account, it is the vehicle driver's responsibility to pay these tolls, even if you are in a hire car. The price of these tolls is NOT included in your ferry ticket.
The M1, M2, M3 and M4 motorways all join up with the M50. If you are on the M1, continue south as that road becomes the M50. From the M2, M3 and M4, follow the M50 round to Junction 3, following signs for "Dublin Port", and this will bring you round to the M50 heading towards the port. You will soon come to signs for Dublin Port, marked on the road as "Port Tunnel". You will go through the Dublin Port Tunnel (still on the M50) and eventually come out just before a toll booth ("Toll Plaza").
Terminal 1 and 2
Follow signs for Terminals 1 & 2. Once you are through the toll booth, stay in the left-hand lane, marked for Dublin Port, this will bring you round on to Promenade Road, where you will come to the small booths for Dublin Port. After the Dublin Port booths, at the roundabout, take the 3rd exit onto "Bond Dr Ext" and follow the road around to the left as it becomes Tolka Quays Road. From here, follow the signs to the appropriate terminal.
Terminal 3
On exiting the tunnel, go through Toll Plaza and stay in the middle lane following signs for 'CITY CENTRE' - do not take the left lane to Dublin Port. After the road goes up and curves to the right, stay in the left-hand lane and continue to follow this road through 3 sets of trafic lights. The Port Terminal entrance is located on the left 100m after the third set of lights - opposite the Odeon and 3 Arena - there is only a small sign, marked "Terminal 3 P&O Irish Sea".
From the South:
Stay on M11/N11 towards Dublin (for now, ignoring ferry signs for "Dun Laoghaire"). Turn right onto N31 (Mount Merrion Ave), just after petrol station. At end of Mount Merrion Ave turn left onto Rock Road and follow the road for approximately 1.3 miles. Then just after you pass St Mary's Nursing Home on your left, turn right onto Strand Road (R131) at the Level Crossing. Keep on Strand Road for about 1.7 miles, then turn right onto Sean Moore Road (you should start to see signs with the Ferry icon marked for "Dublin Port" here). When you come to a roundabout, go left (2nd exit) to stay on Sean Moore Road (R131), then over the toll bridge and follow signs to the appropriate ferry terminal.
For more details about Dublin Port's Terminals, see: www.dublinport.ie/tourism/getting-around/.
By Train
Connolly Station is located 4 miles away from Dublin ferry port and serves the North and South of the country. A little further away at 7 miles is Heuston Station which serves Western Ireland.
By Bus
Busárus is the Central Bus Station in Dublin city centre and is 4 miles from the ferry port. A bus service operates between the port and the city centre - tickets are available to purchase on board your ship before you arrive in Dublin.
Dublin Ferry Port Facilities
Café/ Bar
All the terminals at Dublin ferry port are well equipped. There is a café serving a selection of drinks and snacks in addition to various vending machines.
Disabled Facilities
Disabled toilets and access are available at all Dublin ferry terminals. Staff will be happy to help should you require assistance. We do advise however that you advise at the time of booking, of any special requirements you may have.
Parking at Dublin Ferry Port
Short term parking is available on the road just outside the terminal building. The cost is €2/hr with a minimum charge of €1. Tickets can be purchased from the ticket meters which are situated close by. Please note that the machine only accepts Euro coins.
Long term parking is also available and charged on a daily basis day in a car park to the left of the main terminal building (as you arrive).
Cheap4Ferries provides this information for guidance only.