Dover Western Docks Revival
Dover Western Docks Revival is a project designed to bring new investment into the Dover area, through a series of developments based around Dover Port in Kent.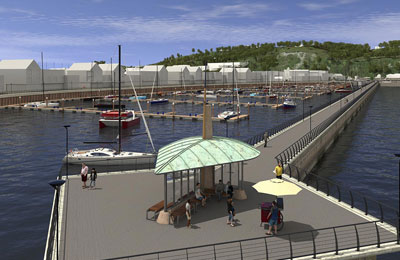 The Dover Western Docks Revival project is intended to encourage new investment into the Dover area, through a series of developments based around Dover Port in Kent. Supported by a mix of private finance and European Union grants, the project will involve the relocation and development of a new cargo terminal and distribution centre, hoping to attract a range of shops, cafés, bars and restaurants to the harbour area. It has been speculated that Dover Port hopes for a revival of the area similar to that achieved by Portsmouth's Gunwharf Quays development.
Other intended outcomes of the project include the creation of more space around the Eastern Docks area for ferry traffic, and an increased level of employment for local people.
Diversions
Access to seafront businesses and amenities will remain available throughout the construction period with clear diversion signs located on the A20. Changes have been made to the seafront area to accommodate the construction project, which so far have not created any major delays for ferry passengers, although it is advised to allow a little more time to get to the port, especially at busy times.
Construction Noise
Essential piling activity required for DWDR will generate both airborne and waterborne noise, but the company in charge of this development aim to keep this to a minimum whilst still safely retaining as much use of the harbour for leisure users as possible. The promenade and beach will be outside of the safety zone and visitors will be free to enjoy the amenities at their leisure, although due to the severe underwater noise there is a recommendation that swimmers, especially those swimming partially submerged and for sustained periods of time, refrain from swimming in the harbour while piling is in progress. Those using surface craft and wearing properly fitting buoyancy aids at all times may continue to use the harbour as long as they remain outside the safety exclusion zone. People wishing to play at the water's edge may do so safely as long as they do not submerge themselves under water.
Most ferry customers should be unaffected by local road closures, but you can find more information about the Dover Western Docks Revival here.