Wightlink announce name of new flagship, "Victoria of Wight"
Wightlink have chosen the name of their new flagship, which will be called "Victoria of Wight". The new £30million environmentally-friendly car ferry will operate the Portsmouth-Fishbourne route.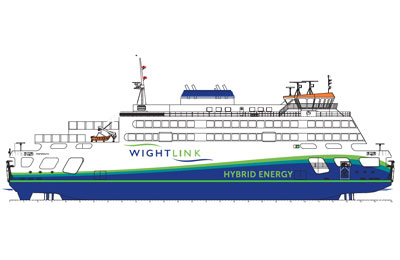 Victoria of Wight will be a hybrid vessel, powered by batteries as well as low sulphur marine gas oil. Environmentally friendly features will include the recycling of hot water from the engines to heat the passenger areas and low energy LED lighting. There will be a Costa Coffee on board, along with a shop selling high quality Isle of Wight produce.
The new ship is part of a £45million investment in the route. New two-tier boarding ramps are already in use at Portsmouth and Fishbourne and have made loading and unloading of the ferry St Clare faster and more efficiently.
Wightlink Chief Executive Keith Greenfield said: "Victoria was clearly a popular choice among staff. We were very happy to endorse their selection and feel Queen Victoria, as a regular visitor to the Isle of Wight, would have been amused!"
Work is well underway on the new ship at the Cemre shipyard in Yalova, Turkey, and Victoria of Wight will be officially handed over to Wightlink early in 2018, due to begin service on the Solent sometime in the summer of 2018.
Find out more about the new ship at the Island Echo website.