Folkestone Eurotunnel Terminal
The Eurotunnel train from Folkestone to Calais is the quickest route across the Channel.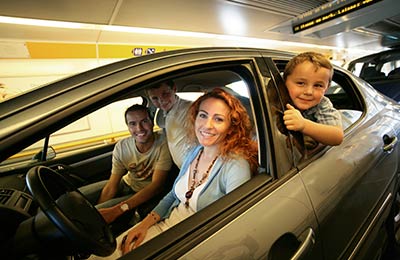 Folkestone Eurotunnel Terminal is the UK departure point for Channel Tunnel trains to Calais in France. With an average journey time of just 40 minutes, taking the Eurotunnel train from Folkestone is the quickest route across the English Channel.
Directions To and From Folkestone Eurotunnel Terminal
Address: Eurotunnel UK Terminal, Ashford Road, Folkestone, CT18 8XX, United Kingdom.
You can reach Folkestone Eurotunnel Terminal:
About Folkestone
On a clear day in Folkestone, you can see across the straight of Dover to France and so it is no suprise that the town developed because of transport. For most of the 19th and 20th Centuries it was an important passenger and freight port, but with the decline of several routes to France, and the arrival of the Channel Tunnel, the port closed in the year 2000. Today, an average of 57,000 passengers per day pass through the Channel Tunnel, with 10.6 million people travelling on Eurotunnel Shuttles and 10 million on board the high-speed passenger train service each year. In 2017 Eurotunnel carried the 25 Millionth truck to use it's service since it began.
Getting to Folkestone Eurotunnel Terminal
By Car
The Folkestone Terminal is well indicated from the motorway. Exit at junction 11A of the M20 straight to the check-in booths.
By Train
Trains run daily from Dover to Folkestone.
By Bus
National Express run services to Folkestone from all over the UK via London. Trains run on a regular basis from London Charing Cross to Folkestone.
Folkestone Eurotunnel Terminal Facilities
Cheap4Ferries provides this information for guidance only.