Southsea Hovercraft Port
Southsea Hovercraft Terminal is located on the edge of Portsmouth and offers hovercraft travel to Ryde on the Isle of Wight.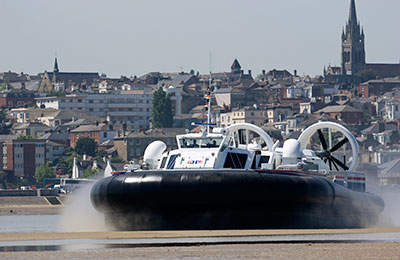 Directions To and From Southsea Hovercraft Terminal
Address: Clarence Esplanade Southsea Portsmouth, PO5 3AD
You can travel from Southsea Hovercraft Port on the following routes:
About Southsea
Southsea Hovercraft Port is situated on the edge of Portsmouth in Hampshire and is the foot passenger gateway to Ryde on the Isle of Wight. With a crossing time of just 10 minutes, Hovertravel operate up to 39 sailings each day.
Please note: for conventional ferries and fast catamarans to the Isle of Wight, try Portsmouth Ferry Port.
Getting to Southsea Hovercraft Port
By Car
Head towards Portsmouth and onto the M27. Join the M275 and continue past the continental ferry port towards Portsmouth, following the signs for Isle of Wight ferries, Seafront and Historic Waterfront. You'll now see signs for the Hovercraft which you now need to follow.
By Train
Leave the train at Portsmouth & Southsea Station and follow the signs to the Hoverbus - bus stop C. See below for details of the Hoverbus service.
By Bus
The specially operated Hoverbus Service takes you directly from the train station to the Hovercraft Southsea Terminal. Prices are £1.70/Adult & £1.50/Child. The Hoverbus connects with our hovercraft and will make sure you are at the Hovercraft Terminal in time for your craft.
Southsea Hovercraft Port Facilities
Café/ Bar
The terminal has a comfortable waiting area with a Costa Coffee Express machine as well as various vending machines selling a variety of crisps and snacks. Free wifi is also available - search and select 'Hovertravel-FREE-WIFI' to enjoy complimentary internet access whilst you wait at the terminal.
Disabled Facilities
There is Disabled access to the terminal and toilets are located inside.
Motorised wheelchairs must have a sealed battery. Hovertravel cannot carry motorised scooters or people movers however they are able to provide a wheelchair for use (free of charge) to travel between the ports. Please advise staff on arrival if you wish to travel in a wheelchair. We also suggest that you advise of any special requirements at the time of booking.
Parking at Southsea Hovercraft Port
'Southsea -The Esplanade' is a large council operated pay and display car park which is located directly opposite the port. Both long and short stay parking is available. Additional parking is available behind Clarence Pier funfair, adjacent to Southsea Common and further along the Esplanade at D-Day Museum and Pyramids.
Cheap4Ferries provides this information for guidance only.