Irish Ferries await new Cruise Ferry, the "W.B. Yeats"
Irish Ferries have announced its new €144 million cruise ferry, the "W.B. Yeats", expected to operate on the Holyhead-Dublin route from mid-September 2018.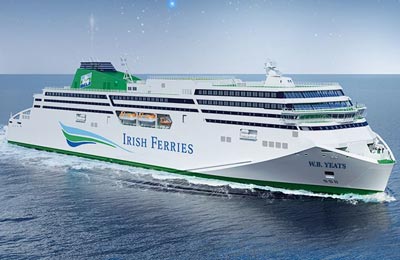 The W.B. Yeats is nearing completion at a shipyard in Germany and will weigh in at 55,000 tonnes, making it the largest ferry to operate on the Irish Sea.
The new ship will deliver additional capacity for 1,885 passengers and crew and 1,200 cars per crossing, onto the busiest ferry route between the UK and Ireland.
Facilities on the new ship will include a Club Class lounge with direct passenger access from the car decks, a choice of restaurants, a cinema, shopping mall, bars and lounges and an outside promenade deck. There will also be 441 cabins, including luxury suites with their own private balconies.
Following her maiden voyage on 6 July 2018, W.B. Yeats will add much-needed high season capacity between Ireland and France, offering Irish holidaymakers a cruise-style travel experience between Dublin and Cherbourg throughout the summer, before going into regular service on the Holyhead-Dublin route.