Irish Ferries
Irish Ferries is Ireland's leading ferry company carrying passengers and cars between Ireland, Great Britain and Continental Europe on its comfortable modern ferries, all year round.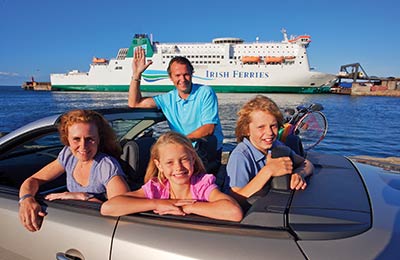 Book Irish Ferries today with Cheap 4 Ferries – all Irish Ferries routes available to book including Dublin, Rosslare, Holyhead and Pembroke.
Irish Ferries sails between Ireland and the UK: between Dublin and Holyhead and between Pembroke and Rosslare. Irish Ferries also provide a ferry service to France between Rosslare and Cherbourg, Rosslare and Roscoff and Dublin and Cherbourg.
Irish Ferries boasts two ferries on the Holyhead to Dublin route. The fast ferry, Jonathan Swift, will cross the Irish Sea in less than 2 hours. The more conventional ferry, Ulysses, is the largest car ferry operating on the Irish Sea and offers a very comfortable crossing.
The Oscar Wilde ferry is a luxurious ship operating between Cherbourg and Rosslare. The ferry features modern and airy onboard accommodation and boasts bars, three restaurants, a café and a shop. The crossing is approximately 18 hours.
Between Pembroke and Rosslare, the Isle of Inishmore ferry connects the UK and Ireland 4 times a week and takes only 4 hours to cross the Irish Sea. The Isle of Inishmore features comfortable seatings, relaxing cabins, a shop, a play area, a café and a restaurant.
Irish Ferries FAQs
What does my Irish Ferries crossing price include?
The price you are quoted is for all passengers in your vehicle including the driver. If you have added a pet, this will also be included in the price.
Is a cabin included?
On overnight crossings, your quote includes (compulsory) accommodation. You can change/upgrade the accommodation type if required.
Are meals included?
No. Meals, drinks and snacks can be purchased from the on-board cafés and restaurants. Services may vary according to the crossing booked.
Can my pet travel with Irish Ferries?
You can take your cat or dog on your Irish Ferries sailing. When you select your preferred route, simply select the number of dogs or cats that you are travelling with. See our
pet booking
page for more information.
What's available for the Kids?
All Irish Ferries ships have play areas specially designed for young children. You'll also find games rooms and live entertainment. On busier crossings in the summer holidays you'll often find children's entertainers.
More about Irish Ferries
Irish Ferries operate five ferries on international routes between Ireland Britain and France catering for foot passengers and vehicles. There are up to six return sailings between Holyhead and Dublin per day: two on the fast ferry and two on the spectacular Ulysses – the largest cruise-ferry on the Irish Sea – and two crossings on the latest addition to the fleet, Epsilon. There are also two return services between Pembroke and Rosslare per day. Irish Ferries also offers routes to France from Rosslare to Cherbourg or Roscoff. Irish Ferries now also sail from Dublin to Cherbourg.
Over the last several years, Irish Ferries have invested over €450 million in new fleet and port facilities. They now have one of the most modern fleets in Europe, including the Epsilon - built in 2011 - sitting alongside Ulysses, the largest car ferry on the Irish Sea, the Dublin Swift on the Dublin-Holyhead route and the Isle of Inishmore on the Pembroke-Rosslare route. On the Rosslare-France route, Irish Ferries are proud of their luxury cruise ferry Oscar Wilde.
Irish Ferries - Pet Booking Information
Note, that to travel with your pet abroad, you will require a Pet Passport.
You can take your cat or dog on your Irish Ferries sailing. When you select your preferred route, simply select the number of dogs or cats that you are travelling with. If the option is not available, please contact us.
Irish Ferries have kennels on some of their routes. On ships where there are no kennels your pet will remain in your vehicle