Ferries to Ireland
Find a Cheap Ferry to Ireland with Cheap 4 Ferries. Routes include Cherbourg-Rosslare, Holyhead-Dublin, Douglas-Dublin, Liverpool-Dublin and Roscoff-Rosslare.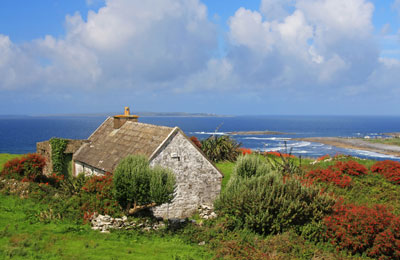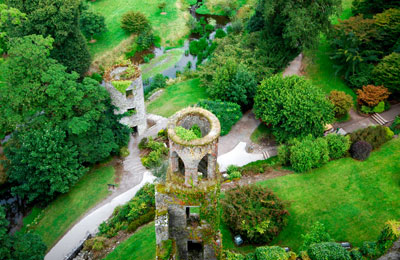 Stunning scenery, friendly locals, bustling pubs and lively art, culture and music - get ready to tick off every cliché as you explore the Emerald Isle! With Cheap 4 Ferries, you can book Ireland ferry tickets and compare every Ireland ferry operator quickly and easily, in just one search.
What ferry companies go to Ireland?
Ferry companies that go to Ireland from both France and Wales include Irish Ferries and Stena Line. Ferries to Ireland from the Isle of Man are operated by Isle of Man Steam Packet Company, and ferries to Ireland from England are offered by P&O Ferries. As well as these ferries to the Republic of Ireland, P&O Ferries also offer routes to Northern Ireland from Scotland and England. By searching all operators we can offer you the cheapest ferry crossings to Ireland.
Ireland is a great place to travel to by ferry, either on foot or with a car. With friendly, bustling cities, hundreds of years of history and endless miles of scenery to explore, the active traveller should not miss out on this incredible destination.
Use our ferry booking engine to find cheap ferries, compare Ireland ferry prices, check availability and book ferries with instant confirmation or search other alternative ferry operators from other ports to Ireland.
With Cheap 4 Ferries, you will find some of the best ferry crossing to Ireland deals.
All Ferry Routes to Ireland
Northern Ireland Ferry Routes

Note: visitors to the Republic of Ireland from Scotland may find it easier to travel by ferry to Northern Ireland and drive south to the Republic of Ireland.
Ireland - some suggestions: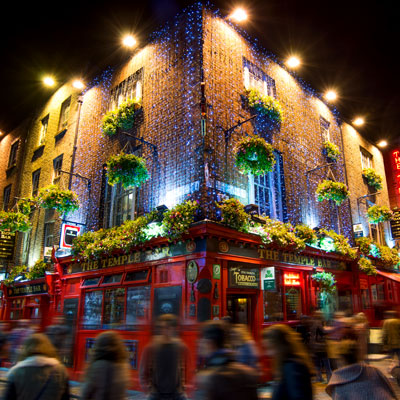 Dublin
Synonymous with the warm Irish welcome, Ireland's capital city is alive with music, pubs, history and culture. No visit to Ireland would be complete without taking a ramble through this laid-back city to explore it's charms.
Dublin - Temple Bar
Full of pubs, restaurants and shops, the area surrounding Dublin's Temple Bar pub is world-famous as a party location for the late-night crowd, although for people looking for something slightly quieter, the pubs and bars on the outskirts of this area, while still lively, might offer more of a glimpse of the traditional Ireland you are looking for. However, the Temple Bar area isn't just for the party crowd - in the daytime it is an interesting and colourful part of the city to explore on foot.
Dublin Castle
Dating back to the early 13th Century, Dublin Castle (Dame Street, Dublin) was the centre of British rule in Ireland for hundreds of years. Following Ireland's independence in 1922, Dublin Castle was handed over to the new Irish government and today is a busy tourist attraction, hosting music festivals and being used as a location for film and TV series. The castle houses several free museums, formal quadrangles, the Gothic Chapel Royal and ornate State Apartments. Take time to enjoy the tranquil Dubh Linn Gardens and drop into the sunny Terrace tea rooms.
Dublin - Breweries and Distilleries
Guinness Storehouse
Enjoyed at "Irish Bars" the world over, can you really visit Dublin without sampling it's most famous export? The Guinness Storehouse (St. James's Gate Brewery) is a brewery experience which tells the tale of Ireland's famous beer, with tastings and a rooftop bar. Of course, if beer isn't your tipple, you could always try something else...
Old Jameson Distillery
One of the most popular attractions in the area, the Old Jameson Distillery museum takes visitors on a journey through the distilling process from grain to bottle, offering a fascinating insight into the world of Irish whiskey. For the full experience, book the tasting tour so you can sample different whiskeys from around the world.
Dublin - History
Trinity College - The Book of Kells Exhibition
For the history lovers amongst you, The Book of Kells Exhibition at Trinity College is a must-see on your visit to Dublin. Founded in 1592, Trinity is Ireland's top ranked university, and its library has 5 million printed volumes with extensive collections of journals, manuscripts, maps and music spanning more than 400 years, including the Book of Kells, an illuminated Latin manuscript, dating from around 800AD. Take a walk around the campus to soak up the atmosphere of this unique location, before marvelling at the craftsmanship of this ancient document.
General Post Office (GPO)
Ireland's more recent history offers a bleak reminder of the human consequences of national and global politics. Dublin's imposing General Post Office (O'Connell Street) was where, in April 1916, the Irish Republic was proclaimed, setting the stage for the bloody and violent "Easter Rising". The GPO has been painstakingly restored, with the addition of a new "Witness History" exhibition marking the centenary of the Rising.
Kilmainham Gaol
The highly atmospheric Kilmainham Gaol (Inchicore Road, Kilmainham, Dublin) provides a riveting insight into some of the most dramatic episodes in Irish history. Many of Ireland's national leaders were imprisoned and executed in the Stonebreakers' Yard of this 18th-century prison, both by the British authorities and the government of the newly independent Irish state. Note: try to book online in advance, in order to avoid queuing.
The Ring of Kerry
Dublin may be Ireland's capital city, but the chances are that any outdoors types will be heading to Ireland to enjoy it's miles of stunning scenery: from coastal cliff walks, to windswept countryside, charming villages and ruined castles, there truly is much to explore in Ireland. The Ring of Kerry is one of Ireland's most famous landscapes, a patchwork of jaw-dropping mountains, lakes and meadows that will take your breath away. Highlights include the Beara Peninsula, the Kerry Way (Ireland's longest walking route) and the Killarney National park, a UNESCO World Heritage biosphere reserve which is home to Ross Castle and a herd of wild red deer.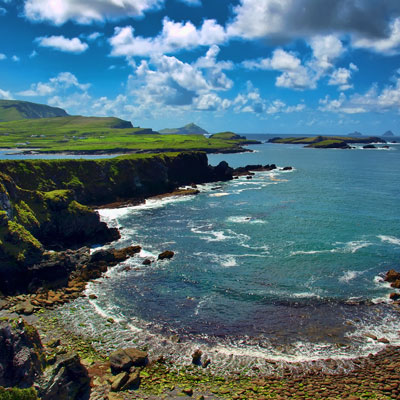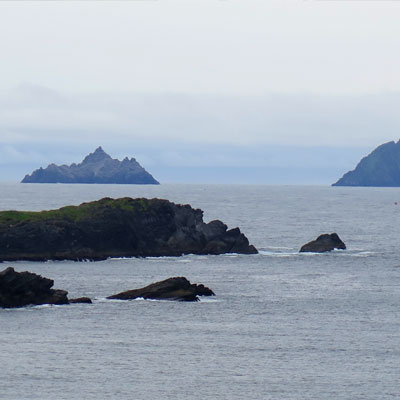 Skellig Islands
Ireland's stunning Skellig Islands are a UNESCO World Heritage site, lying off the west coast not far from the Ring of Kerry. The two islands - Skellig Michael and Little Skellig - are home to a 6th-century monastery, as well as an impressive array of birdlife. On the 600-step walk up to the monastic ruins you could see Cormorants, Black Guillemots, Gannets, Razorbills and Herring Gulls who, it turns out, have all been sharing their island home for the last few years with a certain Jedi... Please note: you can not visit the Skellig Islands in Winter. Weather-permitting, small local ferries go from Portmagee, Valentia, Renard Point, Baile an Sceilg and Doire Fhionain to Skellig Michael between April and September, but make certain you book in advance as visitor numbers are limited.
The Cliffs of Moher
The rugged Cliffs of Moher, in the West of Ireland are one of the country's most visited natural attractions, rising 210 meters up from the Atlantic Ocean. These famous cliffs are nearly 5 miles long and home to the country's most spectacular coastal walk.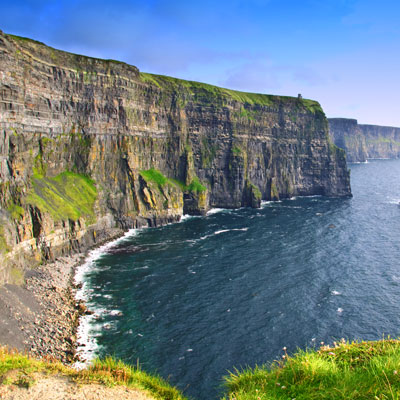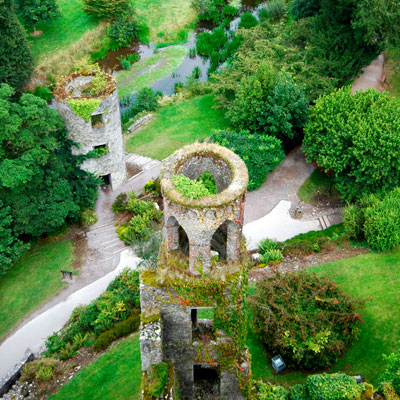 Blarney Castle
Built on the grounds of earlier fortifications, the Blarney Castle we see today is a medieval stronghold in Blarney, near Cork and was built by Cormac Laidir MacCarthy around 1446. The castle is perhaps best known today as the home of the Blarney Stone. Tourists visiting Blarney Castle may hang upside-down over a sheer drop to kiss the stone, which is said to give the gift of eloquence.